Hervey Bay | News
Surprising find at Hervey Bay leads to mystery solved
Sharon Manson, Community Sales Manager Hervey Bay, brought joy to one daughter on the Fraser Coast when she discovered the long-lost special golf ball belonging to her departed father…from twelve years ago!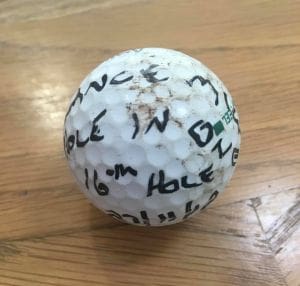 The mysterious golf ball of Lance Mills was discovered during the building of the new Eagles Nest clubhouse at Ingenia Lifestyle Hervey Bay three years ago by Community Sales Manager Sharon Manson. The site of the new clubhouse was once the Eagles Nest Golf Course which was frequented by Mr Mills.
Sharon had been trying to unite the ball with its owner since its discovery.
"When I picked I up, I noticed it had my lucky number on one side: number three."
"I thought oh that's a great sign!"
"However, then when I turned it over, I saw the writing 'Lance Mills, hole in one, 16th hole, 27 November 2012'", Sharon said.
When Mayor George Seymour recently visited the site for the grand opening of the new Eagles Nest Clubhouse, Sharon happened to mention this ball, and the Mayor was on the case to solve the mystery!
Using his Facebook page, Mayor Seymour tracked down the family of Lance Mills who had since passed away, with daughter Marie getting goosebumps when she heard the news.
"This ball means so much to me," said the teary Ms Mills as she was reunited with the ball.