Chambers Pines | News
On location with Property TV!
Ingenia Lifestyle welcomed online TV show Property TV to our Logan community, Chambers Pines.
Presenting on the day were Kevin Turner from 4BC Radio Real Estate Talk and 90s soap star, Bruce Samazan now from downsizing.com.au, who took to the camera to chat with our team about downsizing into an over 55s community.
Community Manager, Ian Thompson, and Project Sales Manager, Lynda Ruddell, had a lot of fun answering questions about the urban tree change feel, the resort-style lifestyle and the financial considerations and benefits with the land lease ownership model.
During the day, Chambers Pines hosted an intra-community lawn bowls tournament with busloads of residents from Ingenia Lifestyle Bethania and surrounding communities coming along to enjoy the Spring sunshine on the competition-grade lawn bowls rink. The resident-led BBQ lunch finished off the day and left a lasting impression on how Chambers Pines residents live a relaxed, social lifestyle!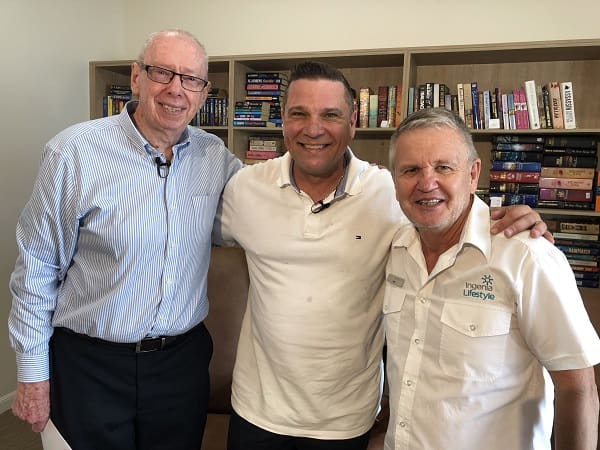 Bruce Samazan and Kevin Turner with our lovely Community Manager Ian Thompson.
To view our episode head to www.propertytv.io