Element | News
Meet Element's Sales Manager, Catherine
It's not every day you find a salesperson bubbling with enthusiasm for the local area as well as the community itself. But that's exactly what we found when chatting to Catherine Booker, Sales Manager for Ingenia's newest boutique residential lifestyle community, Element – at Fullerton Cove.
With almost 30 years living locally, Catherine spilt the beans on why she believes residents will love their new lifestyle.
"To be honest, it's so easy to explain the great things about Element and paint a picture for customers of what the lifestyle in Fullerton Cove will be like, that it barely feels like work," Catherine said.
Already having the local knowledge means Catherine can focus on providing the best possible experience to customers. For her, that means lots of listening and providing the right information to help customers make the choice that's best for them.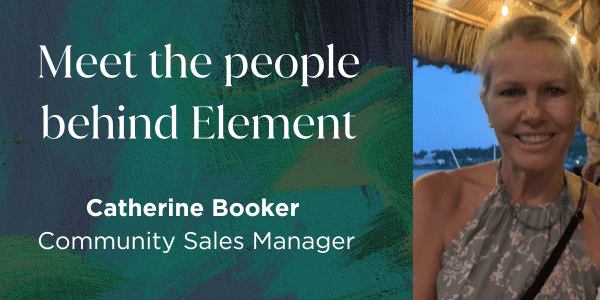 Read on to get to know Catherine more with these quick-fire Q&A's.
What is your previous experience and other roles?
I've been lucky enough be a community sales manager for 20 years, and it's what I love!
What do you love so much about our community?
I love that Element is a small boutique development with architecturally designed homes. And also that the community facilities will be super modern and progressive.  I'm also so proud of the behind the scenes work and dedication of our Ingenia team members, who keep setting amazing new benchmarks in quality over 55's communities.
What do you love about over 55's residential communities?
They create such valuable, new opportunities for liked-minded people to come together and form a community and create new friendships.  They can settle into a gated community and feel a real sense of belonging.
How long have you lived in the area and what do you love about it?
28 years and wouldn't live anywhere else!
What are you most excited about with Fullerton Cove?
I can't wait to get on site…..(in our pod) 😊.  I want to immerse myself in the surrounds and help customers experience it as well.
What is your favourite part about being a Sales Manager?
Creating a memorable journey for the resident, facilitating a concise understanding of Land Lease and delivering the right site and home to suit their needs.  Every customer is so different.
What do you think is Fullerton Cove's best features?
The amazing location, the generous home size and quality, and the high standard of facilities.
Why do you think people should live at Fullerton Cove?
It's in a great spot, centrally located to the beach.  Plus, it's close to medical facilities, Newcastle city, and has easy access heading south or north, and to Williamtown airport.
Why do you think residents should choose us over other communities?
Hands down, it's because Ingenia's intent is to deliver absolute quality communities for their residents. Every decision made aims to achieve the best outcome for residents, with the architecturally designed homes and facilities – plus all extras – included in the initial price of the home.
What are the best things to do in the area?
Where do I start?!  It's such a central location – Hunter Valley wineries are just an hour away, while nearby there's Port Stephens with its beautiful waterways/beaches plus our local ocean walkways. Get spendy at Newcastle's shopping centres, take an easy commute to Sydney, while access to hospitals and medical facilities is made simple via the ferry.