Ingenia Lifestyle proposes to develop a future lifestyle community in Scotts Head, New South Wales.
Ingenia Communities looks forward to engaging with you as we develop our plans to invest in a new, quality lifestyle community for over 55s at Scotts Head.
We recognise the unique nature of this site and that our commitment to good design needs to inform our approach to this future community. We are also advancing extensive technical studies to minimise the impact, enhance conservation outcomes and supplement local
infrastructure.
Ingenia Lifestyle is a leading owner, operator and developer of lifestyle communities, with more than 3,500 Australians currently calling an Ingenia Lifestyle community home. The quality and affordability of land lease communities make them the fastest growing housing choice for downsizers in Australia.
Because we are a long-term owner and operator of lifestyle communities, Ingenia remains part of the fabric of every region in which we invest. That's why we take seriously our obligation to have a positive impact each and every day on our residents, guests, staff and the communities in which we operate.
We appreciate everyone who has engaged with us to date, look forward to listening to constructive feedback as we go, and will continue to share our latest thinking. Working together, Ingenia Lifestyle believes we can create the best vision for the site, minimise the impact, and provide a positive ageing experience for future residents.
Yours sincerely
Simon Owen
CEO and Managing Director
Ingenia Communities
Site Address
11 Ocean Ridge Road
Entry via Scotts Head Rd
Way Way NSW 2447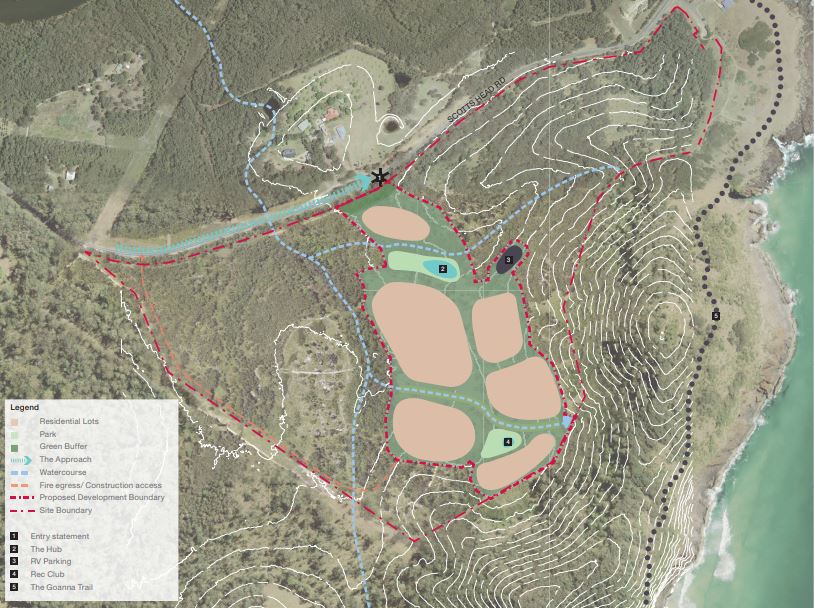 The precise contours of Ingenia Lifestyle's site are still subject to technical studies and design development.
But it is important to note:
We are proposing to enhance conservation outcomes by placing land to the west of our proposal under a permanent biodiversity stewardship outcome, including perpetual maintenance provisions
We are not intending to acquire or own land outside of the proposed 16 ha development footprint
Our plans will also be subject to consultation as part of any statutory planning process commenced after the lodgement of plans.

But elements of the project are:
Providing architecturally-designed homes that are spacious, reflect Ingenia's commitment to sustainability and provide for a positive ageing experience
Using respected design firms for external landscape architecture (Form Landscape), and homes/community facilities (OGE Architecture) to develop a community that works with the natural beauty and contour of the site, rather than against it
Subject to approval, these homes will be constructed on site, comprise a mix of two or three bedroom homes by some of Australia's leading builders
A strong focus on health, wellbeing and recreational facilities that provide a positive ageing experience for residents
Offering our residents the choice of approximately 250 architecturally designed, affordable homes that reflect the local environment and setting
Working to ensure we contribute to the infrastructure and services of Scotts Head - both via an infrastructure contributions agreement to key services as part of any approval, and Ingenia's ongoing payment of rates as long-term owner and operator
Exploring a range of options to supplement medical services. This includes the provision of on site consulting rooms and telehealth facilities. We recognise the importance of access to medical services to both the Scotts Head community and our potential residents and are committed to working towards extending availability of local services. We are seeking advice and input from local medical providers, our inhouse care team and other parties.
Environmental buffers and a conservation agreement to protect land to the west of the site that enhances biodiversity outcomes
A safe road entrance and exit - supplemented by landscaping solutions to minimise visual impacts
Meeting Council's requirements for stormwater management and exploring water sensitive urban design solutions to ensure there is no impact on the existing watercourses and downstream community.
Ensuring Ingenia Lifestyle's commitment to ambitious sustainability goals is reflected in the design of the community.

We are also actively working through an extensive range of technical studies to better inform the proposal, including:
- Biodiversity assessment
- Traffic, water, sewage and other infrastructure requirements
- Bushfire threat assessment
- Visual and social impact assessment
- Aboriginal cultural heritage assessments
Ingenia Lifestyle will be continuing to update project information as we progress our engagement, complete our technical studies and develop our plans.
Ingenia Lifestyle hosted a Community Information Day on Saturday, February 19th.
It was a great opportunity to take on the communities feedback, listen to concerns, hear insights and answer questions.

We have prepared a concise Feedback Report that chronicled the major themes that consistently emerged in our conversations.
You can now download the Report, which is available by clicking on the button below.
Over the coming weeks and beyond, Ingenia Lifestyle will be continuing work on the issues raised, advancing technical studies, furthering our community engagement and advancing good design solutions.
Frequently Asked Questions
Q: What is the vision for the community?

A: We're proposing to create a leading-edge lifestyle community catering for health, wellness and positive ageing. The community will have architecturally designed homes and a wide range of community facilities, including a resort-style clubhouse. Ingenia has consistently evolved its products over the years, placing a premium on good design, sustainability and the environmental context of our communities. Subject to approval, these homes will be constructed on site, comprise a mix of two or three bedroom homes by some of Australia's leading builders, and be set amongst substantial landscaping.
Q: Who will your residents be, and where will they come from?
A: Typically, the vast bulk of new residents to our communities come from within the local region. Residents will be 100 percent owner-occupiers, given Ingenia does not allow speculative investors, and has strict contractual conditions banning short-term letting.
Q: How many residents will live there?

A: We typically have an average of 1.25 people per household across our communities.
Q: Do your residents pay Stamp Duty?
A: As our residents don't own the land but lease the land from Ingenia as the operator, they do not pay Stamp Duty. This is a key benefit to purchasing with Ingenia and frees up our resident's capital to do more of the things they love.
Q: Does Ingenia pay rates?
A: Rates are levied by the Council and those rates are paid by Ingenia as the landowner. As a long-term owner and operator of our communities, Ingenia invests in infrastructure and services. As well as paying rates as the land owner, we provide our own garbage collection, and maintain internal roads, infrastructure, community facilities and internal green space at no cost to council.
Q: What's the impact on housing affordability?
A: We recognise the need for the price to reflect the ability of people in the region who might consider purchasing in any project to sell their home, buy in, and retain some equity to support them post retirement. This balances our commitment to quality design with financial solutions that work for downsizers. It also helps free up existing stock for growing families, and is why land lease communities are among the fastest growing options for downsizers in Australia.
Q: Will this community expand over time?

A: It can't. Ingenia is only acquiring the 16ha site. Land west of the site will be placed under a permanent biodiversity conservation agreement, and Ingenia is not buying land east of the site.
Register your interest below to stay informed and be part of the conversation