Featured | Ingenia
ANZAC Day Reflections
By Bob Breen
Anzac Day evokes three types of memories for me. The first is marching with my grandfather, a Second World War veteran, down Kilda Road in Melbourne in the 1960s to the War Memorial and then attending the traditional Collingwood versus Essendon Anzac Day game at the Melbourne Cricket Ground.
I did this each year for about four years before joining the Army and 17 years of age, and after four years of training, I graduated from the Royal Military College, Duntroon. During those years in the early 1970s Duntroon cadets provided the guard for the Dawn Service at the Australian War Memorial. These were cold, poorly attended events.
But my most enduring memories of Anzac Day at the Australian War Memorial have been in recent years where thousands of people attend, testifying to the growing and enduring commitment to remembrance in Australia.
My third type of memories are of Anzac Day ceremonies overseas.
In the 1990s and early 2000s, my duties included visiting and writing the stories of Australian peacekeeping operations in Somalia, Rwanda, southern Lebanon, Bougainville in Papua New Guinea, East Timor, Iraq, and Afghanistan.
What always struck me about these dawn services, followed by marches viewed by the locals, was the enduring pride of young Australian men and women to serve overseas in Australia's name. Peacekeeping in the 1990s and 2000s was not like the First or Second World Wars, or like operations in Korea and Vietnam.
But they had the common characteristics of young Australian men and women serving their country in dangerous places and doing so with a pride and strength that they drew from the Anzac tradition.
While fewer of them gave their lives during their service and most of what they did was unknown to their compatriots, they did what the nation asked of them to the best of their abilities.
So, for me, my reflections on each Anzac Day are of the pride of my grandfather and his mates for their service, the growth of public pride in the Anzac tradition at the Australian War Memorial each year and the enduring strength Australian men and women serving in uniform overseas take from the Anzac tradition to this day.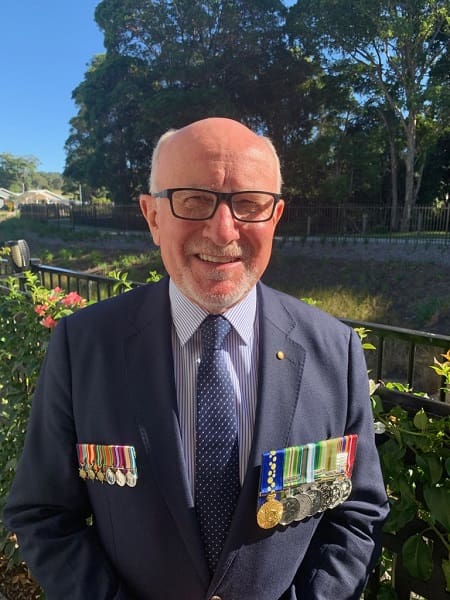 Bob Breen